High Resiliency (HR) foam
High resilience foam gets its name from its properties that allow it to quickly regain its shape.  The highest grade of polyurethane foam and weighs 2.5 lbs or more per cubic foot.    HR foam has a more random cell structure when compared to other foams. This configuration of cells adds support, resilience and bounce.  High-resilience foam snaps back to its original shape immediately after compression, while regular foam tends to lag and take a few moments to reshape.  HR foam can be washed, dry cleaned, steamed, and sterilized. It's odor-resistant, non-allergenic, bacteriostatic, and resistant to mildew, fungi and insects.  HR foam is supportive, comfortable and durable.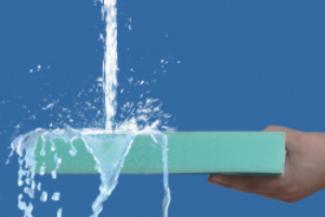 Dry Fast (Reticulated) Foam
Dry Fast (reticulated) foam is a high quality open cell foam that allow water and air to flow through easily, making comfortable, dry and cool cushions.  Dry fast foams are suited for outdoor use where moisture and precipitation like rain is prevalent.  Dry Fast foam is formulated with an antimicrobial agent to prevent mold and mildew. It is a more expensive foam, but you get what you pay for. When paired with an outdoor fabric, like Sunbrella, open cell foam creates a virtually maintenance free cushion in sun, rain, and snow.